BMW Tire Service

Benefits of a Tire Service
Immediately after you take ownership of your BMW, its maintenance becomes a top priority. While some necessary maintenance tasks are well-known and difficult to overlook, such as the need for a regular oil and filter service, the need for tire service on a regular basis may be much easier to overlook or to put off for another day. At BMW Chattanooga, we understand the benefits of regular tire service, and we are committed to making it as convenient as possible for you get your BMW serviced as needed. Regardless of whether you use your vehicle or not, air pressure can slowly decrease. When you drive your BMW regularly, tread will also wear down. These two critical factors can result in extra and unnecessary wear. This means that your tires will need to be replaced sooner than they otherwise would. Fuel efficiency, safety on the road, the impact on other components and more must also be taken into account when you analyze the benefits of having well-maintained tires. You can see that regular tire service is essential, and we are the service center to turn to for wonderful results.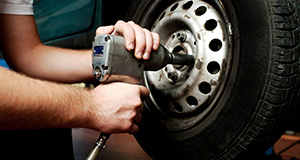 BMW OF CHATTANOOGA
6806 E Brainerd Rd, Chattanooga, TN 37421
Serving
Chattanooga

,

Cleveland

&

Knoxville

BMW Chattanooga offers the full range of tire services that you may need over the years. From a periodic tire replacement to more regular alignments, balancing, pressure checks and more, you can rest assured that our certified auto techs are up for the job. Through the certification process, our technicians received substantial training and education on all aspects of care for all BMW models. This education also includes maintenance required for any make and model. Regardless of the type of vehicles that you park in your garage at night, you can see that our service center is the place to go for all tires services and for any other automotive services that may be needed. Remember that our trained and certified auto techs are available to serve you throughout our extended work hours. With our convenient location in Chattanooga, it is easy to bring your vehicle into our service center.
Chattanooga Tire Service
Our service team at BMW Chattanooga is eager to assist you with all maintenance and repair needs that your vehicle needs over the years, and we are focused on providing you with stellar results with each service that we complete. While the training and certification of our team goes a long way to ensuring that we achieve our goal, the quality of the parts that we use is also essential in this process. OEM parts are generally superior in quality in comparison to aftermarket parts. Because of this, only OEM parts are used for any tire services that your vehicle requires. In fact, OEM parts are the only type of parts that are used by our service team at BMW Chattanooga. Taking great care of your tires and other related components over the years is essential, and our service pros at BMW Chattanooga are excited to be your preferred choice for this and all other types of maintenance care that your vehicle needs. Request an appointment with our team by calling the service department today.