BMW Oil Change Service

Benefits of an Oil Change Service
One of the most valuable services you can provide the automobile you drive is an oil change. This basic service holds a significant value that ensures a smooth operating vehicle that runs wonderfully for many years ahead. When the oil has been inside the engine for some time, it wears thin and stops protecting the vehicle. Sludgy oil allows dirt, debris, and other particles to reach the motor, depleting the vehicle's operation and lifetime. The result is a vehicle that runs less efficiently, uses more fuel and oil, and that fails to provide the smooth operation that you deserve. Schedule an oil change according to the manufacturer's recommendations so your vehicle doesn't endure unnecessary damage.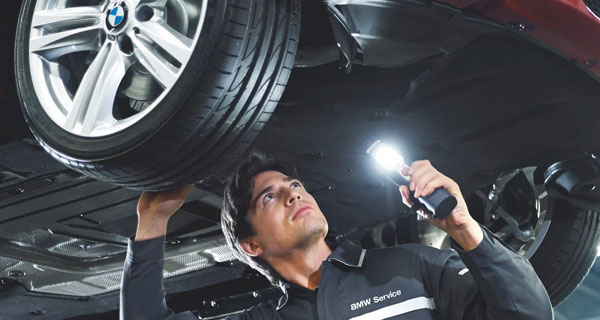 BMW OF CHATTANOOGA
6806 E Brainerd Rd, Chattanooga, TN 37421
Serving
Chattanooga

,

Cleveland

&

Knoxville

Our certified oil change experts service all vehicle makes and models with precision and care. The expertise that we bring forth cannot be matched by the run-of-the-mill auto repair centers around the corner. Although some people perceive service from the dealership as overpriced and too expensive, the truth is it is priced competitively with other repair centers. When knowledgeable experts change the oil inside your vehicle, you receive a synthetic blend oil change, filter change, and a multipoint inspection that keeps your vehicle running smoothly. Whether you drive a car, van, truck, or an SUV, it is imperative regular oil changes are a part of your maintenance plan.
Chattanooga Oil Change Service
The oil change is a simple service that every vehicle needs but with the wrong professionals servicing the vehicle, what started as a simple job can turn into a major concern. Rest assured our certified repair experts will change your oil quickly, using only the best blends of oil and filters. We are an OEM auto repair center, using parts designed specifically for your vehicle make and model. These parts and components ensure your vehicle receives top-notch care that keeps it running smoothly for a long time to come. Our goal is providing each customer unparalleled service that exceeds their every expectation.
Hours
Monday

7:30 AM - 6:00 PM

Tuesday

7:30 AM - 6:00 PM

Wednesday

7:30 AM - 6:00 PM

Thursday

7:30 AM - 6:00 PM

Friday

7:30 AM - 4:00 PM

Saturday

8:30 AM - 4:00 PM

Sunday

Closed