BMW Brake Service

Benefits of a Brake Service
From the brake pads and brake fluid to the linings and rotors, there are many features in a typical vehicle's brake system that may require service over the years. Regardless of the type of BMW SUV or car that you drive, you understandably need your vehicle's brakes to perform without fail at all times. Scheduling periodic brake maintenance service is a wonderful first step to take in this effort. After all, maintenance can clean the pads, replenish fluids and check for signs of damage that may be addressed early on. Even with regular preventive maintenance service on your vehicle's braking system, repair work will be necessary from time to time. Rest assured that our team at BMW of Chattanooga will work efficiently while producing quality results that protect the condition of your vehicle and that help to keep you and your passengers as safe as possible on the road.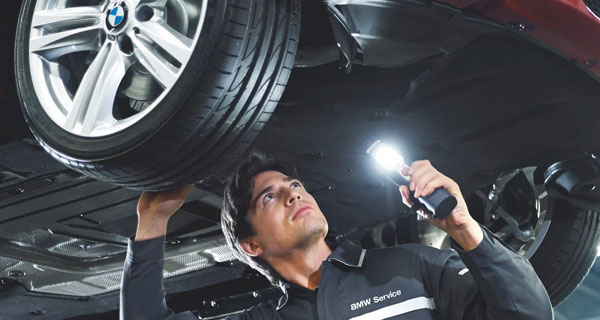 BMW OF CHATTANOOGA
6806 E Brainerd Rd, Chattanooga, TN 37421
Serving
Chattanooga

,

Cleveland

&

Knoxville

Brake service on your BMW is not a matter to take lightly. It makes sense to learn more about the qualifications, experience and skills of the auto technicians who will be working on your car or SUV. The unfortunate reality is that some Chattanooga service centers do not thoroughly vet technicians before allowing them to work on their customers' vehicles. This is not the case with BMW of Chattanooga. When you make the wise decision to bring your BMW to our service center for brake services or for any other type of automotive services, you can enjoy the peace of mind that comes from knowing that your vehicle is being tended to by certified technicians. Our technicians each have exceptional experience working on all types of maintenance and repair projects. This experience exceeds brake services for BMWs, and it extends to all types of services for all types of vehicles. The certification process has given our technicians exceptional skills that are essential to our ability to produce wonderful results for you.
Chattanooga Brake Service
There are several factors that must all come together in order to promote exceptional results for any type of automotive services. These factors include the attention of skilled, certified technicians and the use of OEM parts. OEM parts are usually considered to be a superior option in comparison to aftermarket parts. This is because OEM BMW parts and supplies are produced by the same companies that made the parts that are currently in your vehicle. You can feel confident in the quality and durability of all OEM parts that we use when servicing your vehicle. While BMW of Chattanooga is just one of many service centers in town that offer brake services for your vehicle, you can see that we are a leading option. We want to be the company that you count on to provide you with exceptional results for brake system maintenance and repair work and for any other automotive needs that your BMW has now and in the future. We strive to provide you with quality results with efficiency, and we encourage you to schedule an appointment in advance so that we have a team ready to begin working on your vehicle as soon as you arrive.
Hours
Monday

7:30 AM - 6:00 PM

Tuesday

7:30 AM - 6:00 PM

Wednesday

7:30 AM - 6:00 PM

Thursday

7:30 AM - 6:00 PM

Friday

7:30 AM - 4:00 PM

Saturday

8:30 AM - 4:00 PM

Sunday

Closed