BMW Battery Service

Benefits of a Battery Service
The battery in your BMW is easy to overlook on most days, but as soon as it begins to show signs of trouble, it may become a focal point in your life. Without a functional battery, your BMW car of SUV will not operate as needed. You may even find yourself stranded in an unfortunate location if your battery dies when you are far from home. In some cases, what may seem like a battery issue is actually an issue with the ignition or alternator. A smart idea is to schedule maintenance service for your battery and other related components on a regular basis, and our team at BMW Chattanooga is available to assist you with this service. If your battery has already developed an issue, rest assured that we can also help you with a diagnostic and repair service.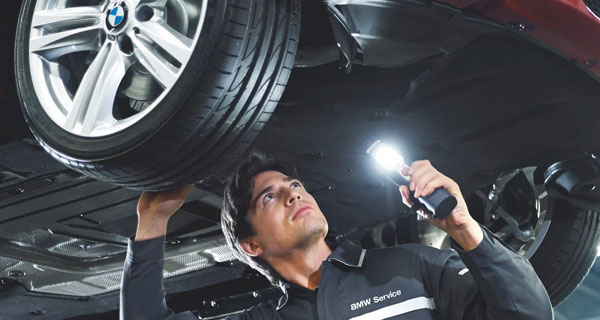 BMW OF CHATTANOOGA
6806 E Brainerd Rd, Chattanooga, TN 37421
Serving
Chattanooga

,

Cleveland

&

Knoxville

Your first experience with BMW Chattanooga may have been when you purchased your car with assistance from our sales and financing departments. We want to be your ongoing automotive partner that you reach out to for any type of need over the years, and we accomplish this by providing each of our customers with exemplary service through repair and maintenance work in our service department. Regular maintenance work, such as with your battery, ignition and alternator, could potentially prevent or delay a serious breakdown situation. Regardless of whether your vehicle needs repair or maintenance work, you may love the fact that all of our services are completed by certified specialists who have each been well-trained in all aspects of BMW care. Their services are also suitable for all other makes and models, making us the service center to trust for any auto maintenance and repair work that you may need over the years.
Chattanooga Battery Service
All batteries will eventually require replacement, and the same holds true for alternators, ignitions and other mechanical components. Even in the most well-engineered vehicles, such as BMW models, components will wear out as you put miles on the vehicles. When you spend your time and money getting replacement parts installed on your vehicle, it is understandable to expect the replacement parts to be just as durable and exceptional as the original parts. However, the aftermarket parts used by some service centers in the Chattanooga area do not live up to this expectation. At BMW Chattanooga, our use of OEM parts, or original equipment manufacturer parts, ensures that you are not disappointed with the end result of our efforts. Remember that BMW Chattanooga has an ideal location that is easy to reach and extended operational hours for your convenience. Taking great care of your BMW is your top goal, and we share this goal with you. Regardless of what type of battery service your vehicle needs or if other types of auto services are needed for maintenance or repairs, you can count on our team at BMW Chattanooga to deliver the desired results without delay. To ensure that our staff is available to begin working on your BMW as soon as you arrive, call us today to schedule an appointment.
Hours
Monday

7:30 AM - 6:00 PM

Tuesday

7:30 AM - 6:00 PM

Wednesday

7:30 AM - 6:00 PM

Thursday

7:30 AM - 6:00 PM

Friday

7:30 AM - 4:00 PM

Saturday

8:30 AM - 4:00 PM

Sunday

Closed